Because I live in a truly mild climate, where our winters cold fronts are short and we seldom see snow, and its very seldom that our daytime highs don't reach close to 20 Degrees Celsius, I buy most clothing with all 4 seasons in mind.  When I saw this skirt a few weeks back, firstly the pattern appealed to me, then the colour, then the thought that I could wear it in winter with tights or hose and in summer just as is, then the price really appealed to me as well … and finally, the final reason that made me gravitate towards this skirt is the images that I've seen of Eva Mendes in skirts, although a little shorter than this,  and I so love how they flow and flatter.

SUMMER/SPRING STYLING
If I wear earrings I don't usually wear a necklace and visa versa. I do however love to wear rings and bracelets/bangles and I don't often buy expensive ones… most of them are really cheap costume items that tarnish quickly.  With the looks of my sandals and belt I chose to wear these bead rings of which I have three and a new to me ring I purchased in a set of six from Edgars.    My sandals are also about two years old and they are Kelso @ Edgars.
Eternity ring : Part of a set of 6 bought at Edgars 
I did not wear a necklace with this as the t-shirt has a design and I don't usually wear big or drop earrings with a necklace.  These earrings are fairly old and if I'm not mistaken, I bought them at Truworths but they go with the Out of Africa look of the belt and sandals.
WINTER/AUTUMN STYLING
For the winter look, I changed the t-shirt to this gorgeous blue knit, waistcoat and the boots.  If it were really cold, I'd wear some knitted tights underneath for extra warmth.
This ring is from Truworths bought ages ago.
This owl necklace makes me think of my daughter Taryn, who is totally mad about owls.  He looks a little angry though at times but I didn't seem to capture that look in this photo.  This was another cheap costume item that I bought at Legit recently.
I bought these boots last season at Edgars and I think I only wore them once.  Was there a fashion rule back when you were younger that said you don't wear black and brown together?  I think Jennifer Anistons character Rachels blew that one out of the water.
Do you buy clothing to wear across the seasons?  Or is your climate such that you have to have two distinct wardrobes, excepting of course for jeans.
On this marvellous Monday with 18 days to take off … I'm linking up with Patti over at Not Dead Yet Style for her Visible Monday link-up and for the first time, Monday Must Haves with The Style Records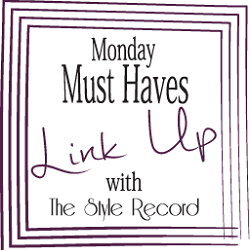 Views – 1563